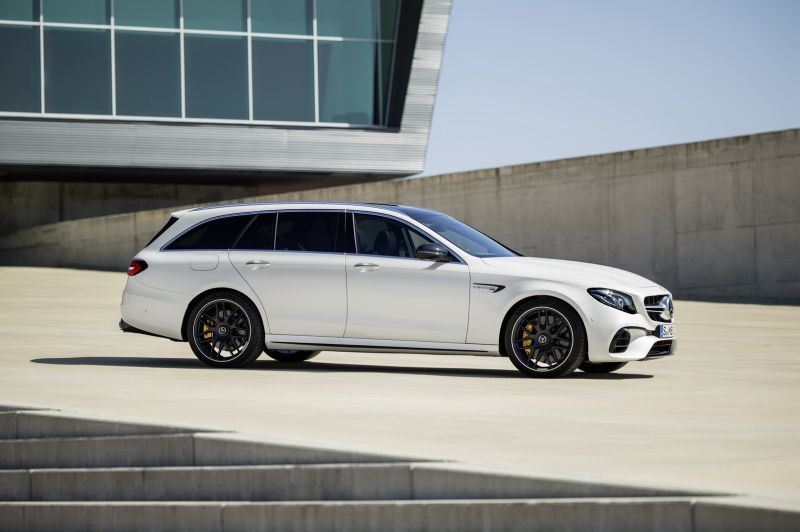 Heads up, Mercedes-Benz lovers: a new luxury automobile, the Mercedes-Benz AMG® E63 S wagon, will debut this fall. And since Mercedes-Benz of Silver Spring is a Mercedes-Benz dealership Baltimore, MD shoppers count on for great specials and a huge selection, you can bet we'll have a generous quantity of this super-premium wagon.
Perhaps the most exciting aspect of this brand-new luxury wagon is its combination of world-class Mercedes-Benz driving performance, high-end equipment, and next-gen technology that the Mercedes-Benz brand is known for, particularly the Mercedes-Benz AMG® E63 S sedan. In terms of performance, the Mercedes-Benz AMG® E63 S wagon gets the same powertrain as the sedan: 4 MATIC®+ All-Wheel Ddrive (AWD), a nine-speed sport transmission, and an expertly handcrafted 4.0L V8 biturbo engine rated at 603hp and 627 lb-ft of torque and capable of 0 - 60 in a paltry 3.4 seconds. These power numbers and acceleration time are new records for the luxury wagon class.
Technology-wise, this soon-to-debut wundercar boasts five different "AMG® Dynamic Select" drive programs: Individual, Comfort, Sport, Sport+, and Race. These programs allow drivers to customize every performance aspect of the vehicle, including steering, AWD, suspension, transmission, and engine. Plus, there's an "M" button that when pressed allows the driver to access a manual shifting mode. Moreover, this cutting-edge car's new three-chamber air suspension comes with its own settings: Comfort, Sport, and Sport+.
In the cabin, next-gen technology is also in high supply. Drive Pilot, which offers semi-autonomous driving, is available, and so too is Mercedes-Benz Intelligent Drive, along with plenty of connectivity options. Contact us today and see how you can get on the list for a state-of-the-art Mercedes-Benz AMG® E63 S wagon near College Park, MD. This performance-focused luxury wagon promises to redefine its class!