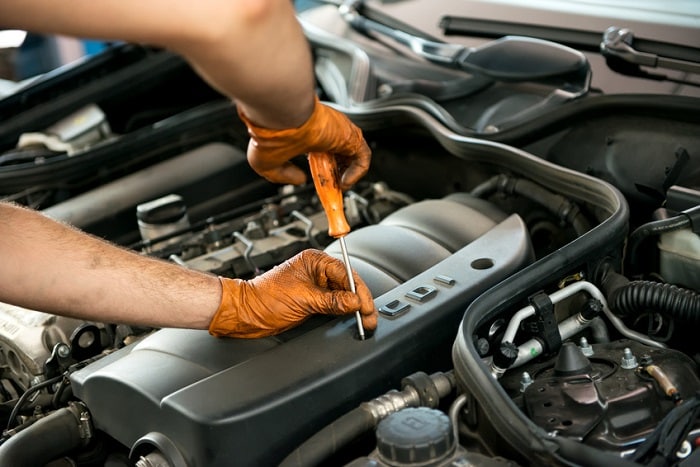 When you're shopping for a new car, there's a lot to consider. Here at Mercedes-Benz of Silver Spring we can answer any questions you may have, including ones about your vehicle's engine. Different engines might suit different drivers better, so we'll make sure that you have all of the facts before you drive away in one of our luxury vehicles.
A four-cylinder engine is a common option on dealership lots. These are fuel-efficient and offer a high power to weight ratio. Most of the four-cylinder engines found in our vehicles are inline-four engines. These are mostly designed for smaller cars, like the 2019 Mercedes-Benz CLA 250, but they can actually be found in some of our crossovers as well. The 2019 Mercedes-Benz GLA 250 and 2019 Mercedes-Benz GLC 300 are both available with a 2.0-liter inline-four turbo engine that ensures that you're never bored when you're behind the wheel.
While turbocharging can help boost power, an inline-four is never going to quite match the horsepower offered by a V6 engine. This engine is organized in a "v" shape and is commonly found in premium vehicles. A V6 engine is powerful, but that's not enough for some models! The 2019 Mercedes-Benz E-Class, for example, is available with inline-four and V6 engines, but the Mercedes-AMG® branded version goes even farther with a V8 engine! Essentially, a car that's equipped with a V6 or V8 engine is built for performance, while an inline-four engine offers more fuel efficiency. Which is your priority?
So visit our Mercedes-Benz dealership near College Park, MD and find a luxury car, and an engine, that suits your driving needs. We'll make it simple to find the perfect car, crossover, or SUV. We look forward to assisting you!