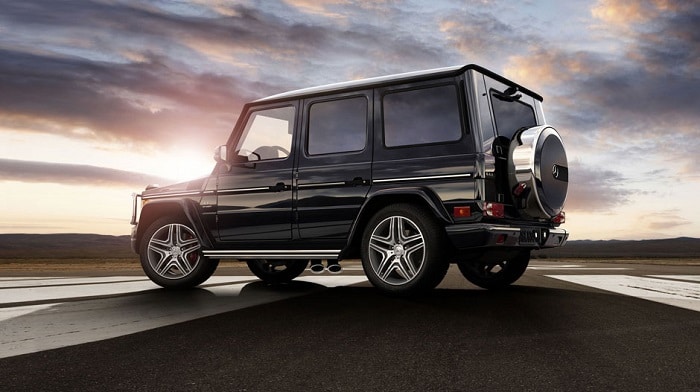 The Mercedes-Benz G-Class turns 40 in 2019. Its prior 39 years saw periodic updates, but a wholesale redesign kept being put off. However, what was intended as yet another refresh took on a life of its own. The result is a significantly updated 2019 Mercedes-Benz G-Class that takes everything drivers love about its predecessors and manages to improve on it. Needless to say, we're excited for its arrival at Mercedes-Benz of Silver Spring.
If you're expecting a radically different look, you'll be disappointed. If, on the other hand, you like the understated and utilitarian look of the original, you'll be relieved. There's a subtle reimagining of the proportions and interior layout which makes for a bit more elbow room. What's more important — and the reason you're getting that extra space — actually has to do with what you can't see.
For starters, there's an all-new ladder frame. That's to incorporate crumple zones for added safety. The front suspension is redone, which in turn enabled the addition of a less-tiring electrically-assisted rack and pinion system.
The new steering system also enabled another important change. The Mercedes-Benz G-Class never had driver assist aids because the older steering system wasn't compatible with them. That obstacle's gone now, so we expect to see collision avoidance and mitigation, self-parking capability, and active lane-keep assist (among other features) just like you'd find on any other new Mercedes-Benz SUV.
We haven't gotten to several other changes, including the stiffer and lighter body, interior updates, and much more. Long story short, we're confident that this was the best possible update for this model; it retains the off-road capability and classic looks, but it takes on many great new features that place it firmly in the 21st Century.
To find out more about the 2019 Mercedes-Benz G-Class, visit Mercedes-Benz of Silver Spring at 3301 Briggs Chaney Rd., today.