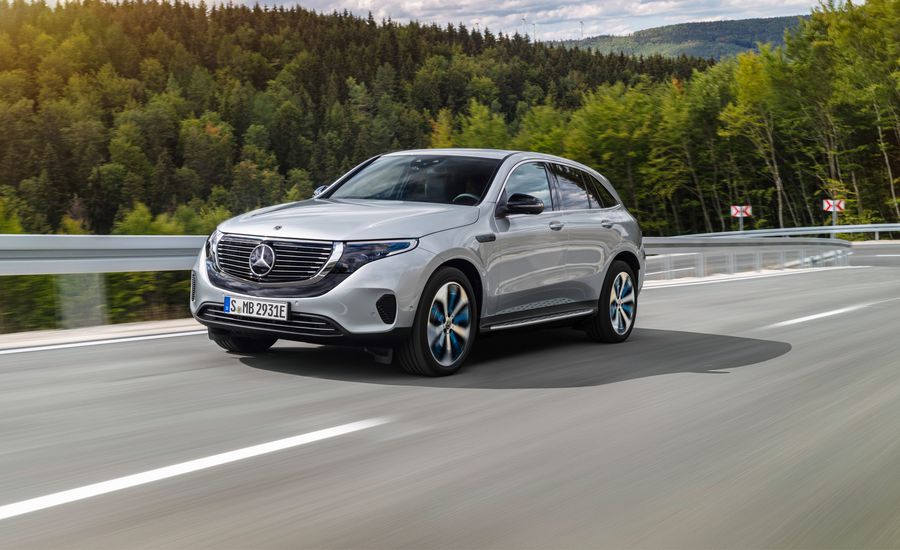 Nearly a month ago, a 30-second teaser video appeared for the Mercedes-Benz EQC. It was the latest in a line of short looks meant to build anticipation for the much-hyped Mercedes-Benz EV. The teasing is over, but the wait remains; the production-ready concept appeared on Sept. 4, but won't arrive at Mercedes-Benz of Silver Spring until next year. Here are some other things we've learned from the unveiling.
The first welcome development is our first real look at the vehicle, inside and out. It looks a lot like the Mercedes-Benz GLC, but there are some important differences. A battery pack and a pair of electric motors (which between them deliver 400 horsepower, 516 lb.-ft. of torque, and a sub five-second zero-to-60 time) are only two of the differences.
Another one that's equally important is on the interior. The center stack is right where we'd expect it to be (albeit a bit more knobby and button-y than before), but what's really interesting is the dual display taken from the original Generation EQ concept. It stretches lengthwise from just to the right of the stack to the area where the instrument cluster would normally be, instead of the traditional infotainment display that looks more like a tablet.
We agree with TopSpeed, which states, "That Mercedes actually used it on the production model speaks to how far it's come in developing the technology it can properly use on one of the most important models it's rolling out in recent years."
2019 isn't that far off, especially since we've been waiting for this moment ever since the Generation EQ concept premiered two years ago. This uncommon crossover will take its place alongside the other new Mercedes-Benz SUVs at Mercedes-Benz of Silver Spring sooner than you think. To find out more, or to see our tremendous selection of performance luxury vehicles, stop by 3301 Briggs Chaney Rd., today.