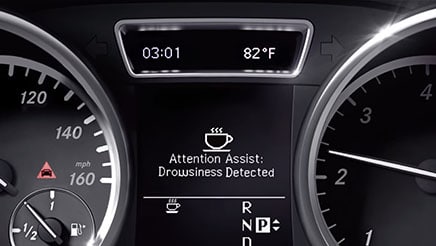 Here at Mercedes-Benz of Silver Spring, we know that most drivers are looking for the latest safety features when they're shopping for a new car. Fortunately, the luxury vehicles on our lot are outfitted with all of the tech that you could possibly need to stay safer on the road. We offer a variety of features that you want and even some you didn't know that you needed.
One feature that you'll find in a model like the 2019 Mercedes-Benz GLA 250 is ATTENTION ASSIST®. This unique technology can actually tell when a driver is starting to get tired. It will give you a warning and let you know that you should pull over. Drowsy driving can cause accidents. This safety feature can help prevent one.
Another feature that you'll find in many of our vehicles is Active Brake Assist. A car like the 2019 Mercedes-Benz C-Class is actually able to tell when a collision is imminent. When it determines that a crash is likely to happen, your car can hit the brakes on its own and send extra power to them, so that when you hit the brakes they're more effective. This can help mitigate damage from a crash and hopefully keep the driver and passengers from getting seriously harmed.
Another feature found on some of our models is PRESAFE® Sound. One thing that you may not know about car crashes is that they're loud. Very loud. This is especially true when you're inside of a vehicle that's crashed. PRESAFE® Sound transmits "pink noise" that protects your hearing and can help prevent damage to your ears.
These three safety features are just a sample of what our amazing cars have to offer. Visit our Mercedes-Benz dealership serving Bowie, MD and see them for yourself today. We'll help you find the safe luxury car you've been dreaming of!