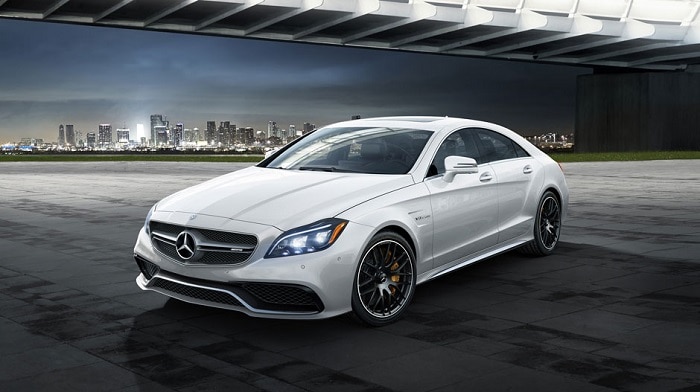 Mercedes-Benz of Silver Spring is proud to offer the 2018 Mercedes-Benz CLS, but we're also a bit surprised that we're already hearing news about the 2019 model. Already available in Germany as their 2018 model, the 2019 Mercedes-Benz CLS will arrive here this time next year. Confused yet? Let's clear some things up, including what you can expect when it arrives at your Mercedes-Benz dealership near College Park, MD.
The 2019 Mercedes-Benz CLS will be the first of a new generation. As such, it's redesigned inside and out. There are less character lines and creases than before, but the familiar profile that combines a sedan with a fastback coupe is still evident. The car's grille is also redesigned for a more aggressive look. It won't be everyone's cup of tea, but like their cars, the Mercedes-Benz brand never stays still for long.
A further change comes to the seating layout. The current 2+2 coupe seating is replaced by a more traditional five-seat arrangement. There's an optional two-screen infotainment and telematics setup, new accent lighting, and the first appearance in this model of the Energizing Comfort System, which turns your car into a mobile oasis of calm.
The most significant change, however, is the powertrain. It combines a new 3.0L inline V6 engine with a 48-volt combination starter-generator. The significance of this is that it adds more torque and horsepower for short durations, so you get even more out of an already-powerful 362 horsepower and 369 lb.-ft. of torque put out by the engine.
We love the 2018 Mercedes-Benz CLS, but we can't help but be excited by its 2019 replacement. It's shaping up to be a worthy successor to a car that already has a lot going for it. Visit Mercedes-Benz of Silver Spring, located at 3301 Briggs Chaney Rd., to find out more about new Mercedes-Benz models.