Proudly serving Mercedes-Benz customers in Silver Spring, MD, Mercedes-Benz of Silver Spring offers an unparalleled automotive experience. Our Mercedes-Benz dealership offers our clients a full range of services and models, whether you're seeking a new Mercedes sedan or desire regular maintenance for your Mercedes-Benz automobile.
Why it's Important to Keep Up with Vehicle Maintenance
Like any other machine, with regular maintenance a Mercedes-Benz vehicle's performance will remain at an optimum level. Contrarily, if you neglect to address common service tasks and other, perhaps more complex vehicular repairs, your auto's performance will suffer. Trust our Silver Spring, MD Mercedes-Benz dealers to help you stick to a regular maintenance plan.
During the purchase process, we'll talk with you about our service capabilities and explain how easy it is for our experienced service team to quickly and cost-effectively complete common maintenance tasks for your Mercedes-Benz vehicle. On model years 2009 and newer, Service A maintenance should happen every 10,000 miles, which includes changing your oil for peak engine operation.* Questions about the vehicle maintenance tasks we perform, and why they're important? Get the answers today at our 3301 Briggs Chaney Rd. Mercedes-Benz dealership in Silver Spring, MD!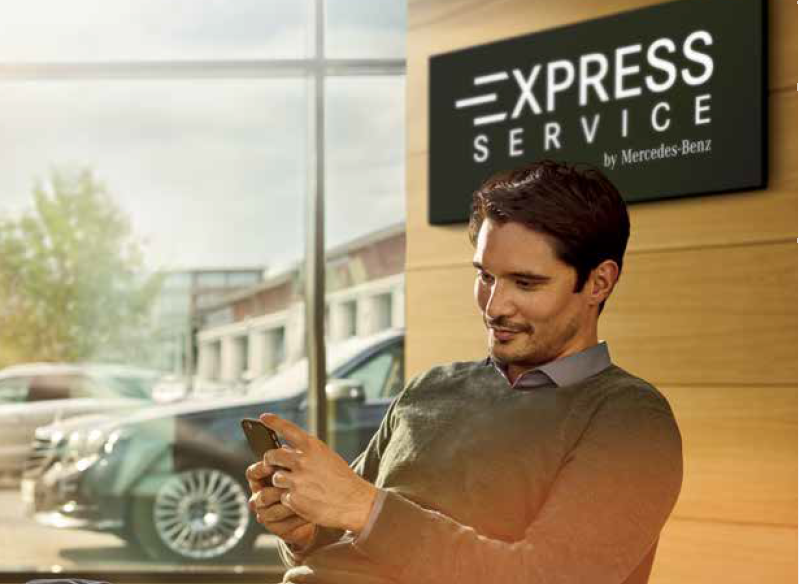 Service Center
Luxury car ownership deserves only the best service and wait-room accommodations, and that's just what you'll find at Mercedes-Benz of Silver Spring. Our comfortable, contemporary customer lounge is the perfect place to kick back and relax, or catch up on some work while we address your Mercedes-Benz vehicle's maintenance needs.  
There really isn't anything we can't do for your Mercedes-Benz sedan, SUV, coupe, wagon, or convertible. Our service center is truly state-of-the-art, an environment befitting one of the world's most respected automakers. In addition to plentiful service bays from where we handle all manner of maintenance large and small, we also have a body shop for major repairs and a tire center stocked with tires that are handpicked for your Mercedes-Benz vehicle.
It's easy to schedule Mercedes-Benz service at our Maryland dealership. Just contact us on the phone or visit us online and make an appointment today!
Though every Mercedes-Benz vehicle is engineered to the highest standards, you should remain diligent regarding automobile maintenance. On model years 2008 and older, simple procedures like oil changes and tire rotations go a long way, and our experienced Mercedes-Benz dealers have the know-how that our  Maryland area Mercedes-Benz customers need to guarantee countless miles of worry-free driving.